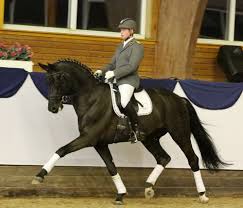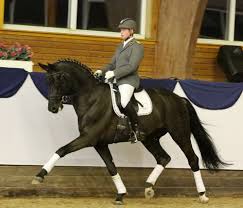 Dubarry X Hanoverian Premium Mare Necia
Hanoverian – Elite Mare Candidate expected to produce superior dressage horse!
Here is how Celle describes this incredible young stallion: "With his jet black coat and splendid type, this son of Don Frederico knows how to show himself in a good light. Due to his enormous freedom of shoulder movement, and the power in his hindquarters, this young talent doesn't know any movement limits. He demonstrated these abilities during his 1st public presentations, and showed himself to be a very rideable and motivated athlete. Dubarry's dam, Ribana (Rubinstein I) perfectly ensures the rideability as well as the willingness to perform, and makes Dubarry the modern young sire of the future." Standing 17.1 and jet black, Dubarry turns heads even before viewers see his phenomenal gaits.
This foal's dam is Hanoverian Premium Mare Necia. With a final inspection score of 7.83, Necia qualified to take the Mare Performance Test and earned an impressive 7.41! Necia showed extensively in dressage, earning scores above 65% at Intermediare 1. "Nicki" is a strong, substantial mare of old European type, with bold, forward movement.
This foal will be large and powerful, with substantial bone and superior movement. Expect 16.3, with an imposing presence and extreme talent.
Full sister, 2020 filly Delicato WSS, is a flaxen chestnut with flashy white markings. Delicato WSS has a sweet and gentle disposition, allowing her amateur owner to lead, tie, and bathe her with no fuss. We expect Delicato WSS to be a BIG, charming, and striking mare with no limits on her athleticism.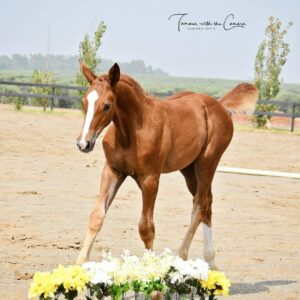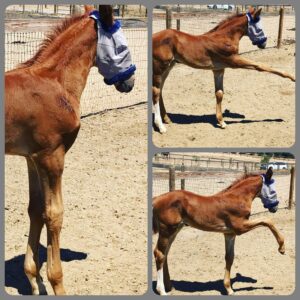 ---